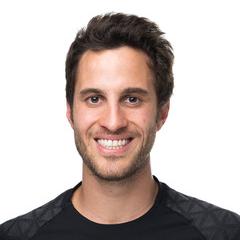 Thursday, 2 September, 17:30 - 18:15
This fitness class will help you stand up straight after a long day of sitting. It will be divided into 3 parts. The first part will focus on mobility and coordination exercises to slowly get you in the mood. Then we will quickly move all together into an High Intensity Training format. We will juggle with dynamic exercises focussed on deep postural muscles, arms and legs, targeting your entire body. We will finally have a small stretching cool down with compilation of useful stretching exercises to do after a sedentary day. Get into some comfortable sport clothes and join in!
Thibault Urfer studied sport sciences and history. He is passionate about sports and all they have offer. He teaches badminton & floorball & snowboard to teenagers at the department of culture and sports of the canton as well as fitness, physical conditioning, athletics & ski at the University of Geneva. He is also a specialised fitness trainer for the Swiss Academic Skiclub.
Important Dates ECER 2021
| | |
| --- | --- |
| 01.12.2020 | Submission starts |
| 31.01.2021 | Submission ends |
| 01.04.2021 | Registration starts |
| 01.04.2021 | Review results announced |
| 15.06.2021 | Early bird ends |
| 25.06.2021 | Presentation times announced |
| 01.07.2021 | Registration Deadline for Presenters |
| 02.09.2021 | ERC 2021, online |
| 06.09.2021 | ECER 2021, online |
iCal Download