Keynote Panel | Friday, 28 August | 16:00 CET (Berlin time)
At the centre of the 'Reconnecting EERA' week will be a series of recorded presentations by ECER 2020 keynote speakers. The videos will be available on YouTube throughout the week.
On Friday, 28 August a live Keynote Panel Discussion featuring the keynote speakers Joyce L Epstein, Ramon Flecha, Isabel Menezes and Riyad A. Shahjahan and hosted by the EERA president Joe O'Hara will be held at 16:00 CET Central European (Berlin) Time.
Link to Time Zone Converter
Please note that there will be a pre-registration for the webinar.
Link to register for the Panel Discussion Webinar
'Reconnecting EERA' | Network Activities
EERA President Joe O'Hara on 'Reconnecting EERA'

Why the title 'Reconnecting EERA'?
As part of its ongoing commitment to providing opportunities for educational researchers throughout Europe and beyond to share their work, ideas and experiences, EERA is organising a week of online events in August 2020. The title chosen for this series of events is 'Reconnecting EERA" and it is one that seeks to connect to the theme of the sadly canceled ECER 2020 in Glasgow. It also recognises the need for a focal point for the different constituencies that make up EERA - Networks, National Associations, EERJ etc which will allow them to maintain the conversation that is at the heart of the work of the Association.
What will be happening during the week?
At the centre of the 'Reconnecting EERA' week will be a series of recorded presentations by the ECER 2020 keynote speakers. These will be streamed throughout the week and on Friday a live Keynote Panel discussion hosted by the EERA President and including all participating keynotes will be held. In addition to these presentations and conversations, EERA networks will host a series of seminars and other online fora throughout the week. EERA hopes that these events will provide a platform for educational researchers to engage with new ideas, connect with EERA and its networks and ultimately to continue the process of engaging in research for the benefit of society.
All are welcome, and all events are free of charge.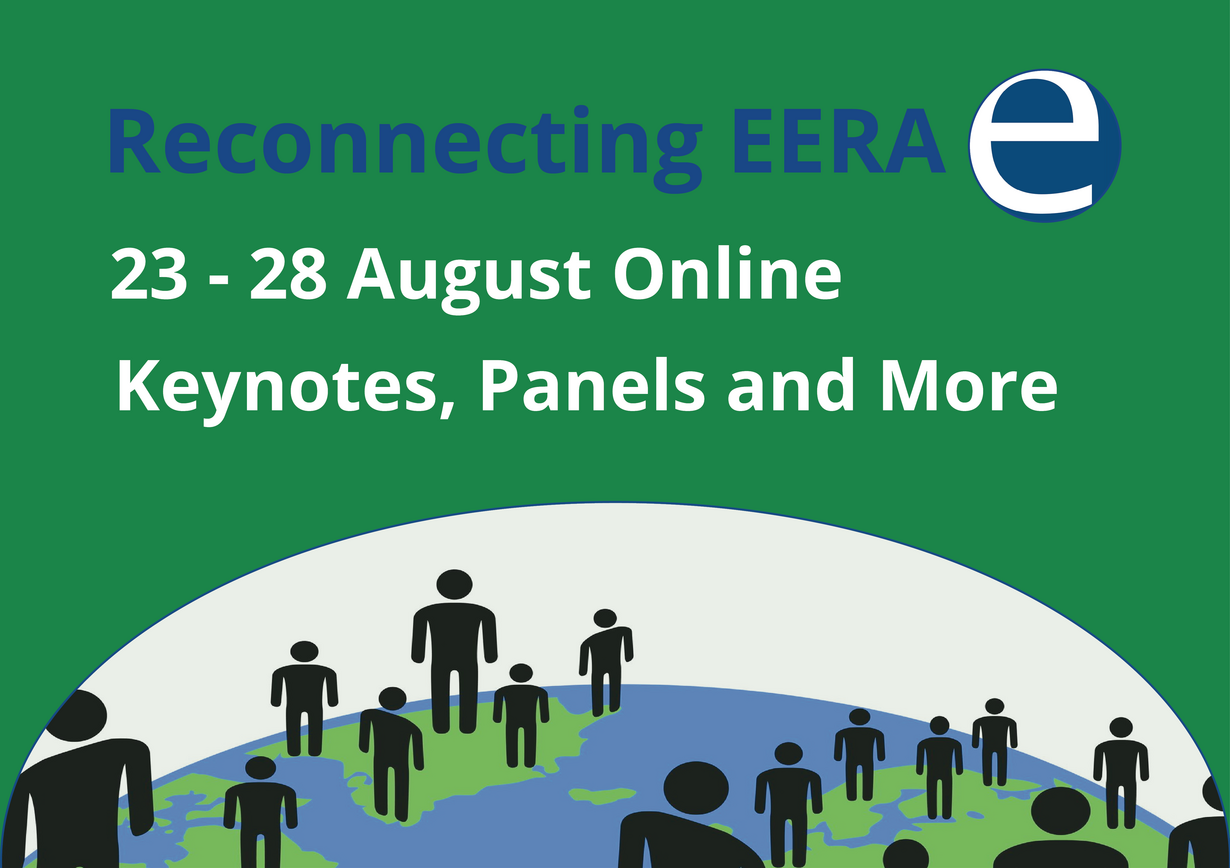 Playlist #ReconnectingEERA
Isabel Menezes - Riyad A. Shahjahan - Ramon Flecha - Joyce L Epstein
With keynote speakers Ramon Flecha, Isabel Menezes and Riyad A. Shahjahan