| | |
| --- | --- |
| Time | Thursday 11:00 - 12:00 |
| Location | ESA - Lecture Hall |
| Chair | Stephen McKinney |
| Streamed to | Faculty of Law - Lecture Hall |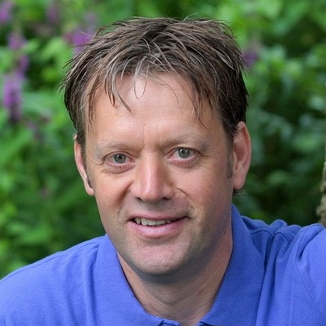 Arjen Wals is a Professor of Transformative Learning for Socio-Ecological Sustainability at Wageningen University. He also holds the UNESCO Chair of Social Learning and Sustainable Development. Furthermore, he is a senior advisor at the Gothenburg Centre for Sustainable Development (GMV).
His recent work focusses on transformative social learning in vital coalitions of multiple stakeholders at the interface of science and society. His teaching and research focus on designing learning processes and learning spaces that enable people to contribute meaningfully sustainability. A central question in his work is: how to create conditions that support (new) forms of learning which take full advantage of the diversity, creativity and resourcefulness that is all around us, but so far remain largely untapped in our search for a world that is more sustainable than the one currently in prospect?
In 2014 he was the lead author of an article published in Science on the role of citizen science in bridging science education, environmental education and sustainability. He is editor and co-editor of a number of popular books including: 'Higher Education and the Challenge of Sustainability' (Kluwer Academic, 2004), 'Creating Sustainable Environments in our Schools' (Trentham, 2006), 'Social Learning towards a Sustainable World' (Wageningen Academic, 2007), 'Learning for Sustainability in Times of Accelerating Change' (2012), and of Routledge's International Handbook on Environmental Education Research (2013).
He writes a regular research blog that signals developments in the emerging field of sustainability education: www.transformativelearning.nl
A short video on his drive and mission can be seen here: www.youtube.com/watch?v=iqB4ryiS4cY
Should and Can Education Save the Planet?
Education unwillingly has become a key mechanism for fostering economic development, innovation and growth. In the meantime, humanity is facing a range of sustainability issues that include: rising inequity, loss of democracy, runaway climate change and mass extinction. These issues can be so overwhelming that they can easily lead to apathy and despair which will only make them bigger. We appear to be at a tipping point where the decisions we make about how to live together will be crucial for the future of our planet. There is no better time than now to ask: What is education for? What if education would serve people and planet rather than just or mainly economic interests? Is this a role education should play? And, if so, what does such an education look like?
Based on emerging research and practices from around the world, I will sketch forms of education and learning that are: responsive, responsible and transformative in light of global sustainability challenges. Sustainability here is not seen as another subject to be added to an overcrowded curriculum, but rather as a continuous quest for finding ways to live more equitably, meaningfully and healthier on the Earth without compromising planetary boundaries and the futures of the coming generations. Such a quest requires a more relational pedagogy that can help establish deeper connections with people, places and other species. Such a pedagogy not only invites reflection on values and ethics, and the utilization of diversity, but also the critiquing and transgressing of the structures and systems that make living unsustainably easy and living sustainably hard.
Against the grain but with the tide, schools around the world, from early childhood education to primary and secondary education, from vocational to higher education, are beginning to re-orient teaching and learning in this vein. They do so by re-designing school grounds, building bridges between school and community, utilizing forms of citizen science, rethinking the way schools use energy, food and water, involving learners in decision-making and design, building-in new concepts like global citizenship, cradle-to-cradle, circularity and biomimicry, and by blending different forms of learning. In the end, taking sustainability seriously in education implies a transition towards more localized curricula, rooted in existential questions and a shift towards more autonomous schools where there is space for inquiry, discovery, empathy and action, always in connection with the bigger world in which the local is nested. Using the UN's Sustainable Development Goals (SDGs) as a backdrop, I will highlight a number of principles, practices and challenges of re-orienting education towards sustainability.
As part of the commitment of EERA to ensuring that our annual European Conference on Educational Research (ECER) is as sustainable as possible, we were delighted to work with the local organisers of our Hamburg 2019 conference to develop our 'Green Agenda'. Watch this videoto learn more!